Originally published on Devex Impact:
To improve vaccination rates, the GAVI Alliance is tackling supply chain bottlenecks through an innovative partnership with Vodafone in Mozambique. Photo: VillageReach.
In the 13 years since it was founded to jumpstart stagnating global vaccination rates, the GAVI Alliance has achieved some remarkable results.
Three hundred and seventy million children in the world's poorest countries have been immunized with support from GAVI, formerly known as the Global Alliance for Vaccines and Immunisations. These relatively low-cost immunizations have prevented over 5.5 million future deaths.
GAVI has achieved these results through partnerships with donor governments, developing countries and development organizations including UNICEF, the World Bank and the Gates Foundation. In addition, it has worked collaboratively with the pharmaceutical industry to help estalish prices that are affordable for developing countries, including through an unusual mechanism it calls an "advance market commitment." Pharmaceutical companies like GlaxoSmithKline and Pfizer make a multi-year commitment to provide the vaccines at the set price.
This partnership model has enabled the delivery of millions of low-cost vaccines into developing countries – and demonstrated how multinationals can be incentivized to tackle major development challenges.
But, as GAVI's leaders have learned, ensuring a vaccine supply alone is not enough to solve the world's immunization problems. That supply must be effectively managed.
"The time has come to get smarter about the system of delivering vaccines if we want to get as many kids as possible vaccinated," says Indra de Lanerolle, a South Africa-based GAVI consultant who manages one of GAVI's new partnerships.
Multinationals have deep expertise in supply-chain management, and GAVI's leadership team started thinking about how to leverage that expertise.
According to David Ferreira, managing director for GAVI's innovative finance department, GAVI began to consider new ways of partnering with private-sector companies. Where previously those companies had made primarily financial commitments, now GAVI wanted to tap into their core business expertise.
At the end of 2012, GAVI announced its first such partnership, a collaboration with U.K.-based telecom Vodafone that seeks to increase Mozambique's vaccine coverage rate by improving information flows along the supply chain.
"Cutting-edge mobile technology has the potential to help us overcome some of our most difficult challenges in gauging stock levels, ensuring vaccines are stored safely and letting parents know when their children are due for a vaccine," said Seth Berkley, CEO of GAVI, in a news release announcing the partnership.
It's far too early to assess whether the GAVI-Vodafone partnership will be successful—implementation hasn't even begun. But if it is successful, it has the potential to demonstrate that a company seeking to grow into new mhealth markets can achieve business goals while helping to solve an important development challenge.
From check-writing to shared value
Breaking into the mhealth market is an important business priority for Vodafone. According to a 2012 PwC/GSMAreport, mhealth services are expected to produce $23 billion in revenues worldwide by 2017, with Africa expected to comprise 5 percent of that market, worth $1.25 billion.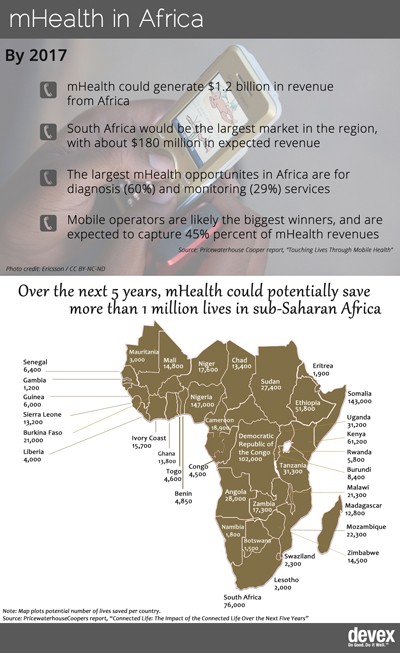 Click to open a larger image
Vodafone's corporate growth plan targets emerging markets, which currently deliver about one-third of the company's revenue and are its fastest-growing markets, according to the 2013 Vodafone corporate report.
Vodafone believes the partnership with GAVI will help "to solve the financial equation to scaling up mhealth technologies and solutions in Africa," according to Laura Crow, a commercial manager at Vodafone who works for Emerging Market Solutions and manages the Group Vaccination partnerships.
Vodafone has been developing mhealth products since 1999, and created an official mhealth business unit in 2009. The company has found it challenging to scale up its mhealth work in emerging markets compared to traditional product lines. 
In The Gambia, for example, the company sought a government partnership in 2012 and 2013 to scale up an mhealth service, but was unable to secure government involvement and withdrew the service as a result, according to its most recent sustainability report.  A Vodafone spokesperson, however, told Devex Impact that in June it successfully negotiated a three-year contract with Tanzania's Ministry of Health to help manage stock control of anti-malaria medications.
GAVI's extensive experience with developing-country governments was appealing to Vodafone as it considered the partnership.
While mhealth may seem like a risky bet for Vodafone, the company might be viewing its mhealth investments through the lens of its early investments in mobile money.
Vodafone, with support from the U.K.'s Department for International Development, developed the M-Pesa mobile money service, which launched in 2007 through Safaricom, a mobile network operator partially owned by Vodafone. M-Pesa is now the most successful mobile money platform in the world, serving 18 million customers in 10 countries. Vodafone does not publish revenue figures for M-Pesa, but the company earns a licensing fee on the platform.
What worked for mobile money may work for mhealth, if the conditions are right.
"With Mpesa, Vodafone had multiple conditions working in its favor. They had the financial stamina to survive until they made money, support from financial regulators and the ability to focus solely on the payments business," said Arata Onoguchi, an operations officer in Sustainable Business Advisory at IFC who has 20 years of experience in telecoms.
"You can test these types of mhealth services in a particular country if you have the right environment."
Partnering with public agencies, including bilateral donors, is an increasingly popular market entry strategy for multinationals.
Government agencies like DFID and nonprofits like GAVI can help company representatives forge key relationships with developing country governments. And in the case of mhealth, it is these local Ministries of Health that would be the ultimate customers of future Vodafone mhealth products.
Scoping out the sweet spot
Like many such public-private partnerships for development, the GAVI-Vodafone partnership began at the highest levels of both organizations, according to GAVI's Ferreira.
Vittorio Colao, Vodafone's CEO, met with Andrew Mitchell, then the U.K.'s Secretary of State for International Development, at the 2012 World Economic Forum meetings in Davos, Switzerland. Colao told Mitchell he was interested in doing mhealth work in developing countries.
Later in the week at Davos, Mitchell introduced Colao to GAVI's Berkley at a breakfast convened by the U.K. government and the Gates Foundation for members of the GAVI Matching Fund. Colao and Berkley agreed to explore a potential Matching Fund partnership.
The Matching Fund has traditionally allowed corporations to contribute cash and have their contributions matched by either the U.K. government or the Gates Foundation, which together have pledged up to $130 million to the intiative. Vodafone's Colao was proposing to contribute in-kind business services instead of cash. According to Ferriera, Berkley was intrigued.
Over the next nine months, both sides evaluated whether there was a "sweet spot" where their strategic interests intersected. GAVI sent de Lanerolle, who now manages the partnership, to meet with Vodafone's mhealth team, understand their work, and explain GAVI's operating model to them.
Next, GAVI analyzed the countries in sub-Saharan Africa where it worked that might be suitable for the partnership, as did Vodafone. Mozambique emerged as the country in part because Vodafone already had a vaccine-focused parternship with pharmaeutical company GSK there.
At this point, the structure of the partnership was still undetermined. GAVI and Vodafone traveled to Mozambique to meet with the Ministry of Health in Maputo.
"We had to identify particular gaps in the country health system where EPI country managers would have an interest in using mobile to fill the gap," said de Lanerolle. The Expanded Program on Immunizations is a global immunization program spearheaded by the World Health Organization; under that program, country-level immunization is largely standardized across the world.
From conversations in Maputo, an idea of Vodafone's most useful contribution emerged, as well as the necessity of including the Ministry of Health in the implementation of the partnership.
In December 2012, GAVI and Vodafone signed an MOU and publicly announced that Vodafone would contribute $1.5 million of in-kind services through GAVI's Matching Fund to Mozambique's Ministry of Health over three years. This donation triggered a $1.5 million financial contribiturion from the U.K. govenrment to GAVI through Matching Fund.
Developing new platforms
Vodafone is designing a vaccine-focused mhealth product with three different components for Mozambique.
The product enables better health record keeping on mobile phones, which will replace paper-based processes currently used to collect data. It will send SMS reminders, such as SMS messages to caregivers reminding them to bring their children to a clinic for their next vaccines. And it will enable health workers to better control stock levels, as they will have access to electronic records of when and where particular vaccines are needed.
The product development is being executed by Mezzanine, a South Africa company that partners with Vodacom, a regional subsidiary of Vodafone. (Similarly, Vodafone outsourced the technology development of M-Pesa toSagentia, a consulting firm).
The mhealth product will be implemented in the field by VillageReach, a nonprofit organization that has worked on vaccine supply chain issues in Mozambique since 2002.
VillageReach will train the individuals who will use Vodafone's mhealth product, making sure that they know how to use the system and that when a phone is broken, lost, or stolen, it is quickly replaced.
"Technology is difficult to use in Mozambique because the infrastructure is very, very poor," as is the level of education, says Leah Hasselback, former Mozambique country director for VillageReach. "If it can work here, it can work anywhere."
VillageReach has been collaborating on the development of a different type of technology platform than Vodafone's. This open-source platform, known as Open LMIS, tracks the movement of medicines throughout the national system.
In contrast, Vodafone's mhealth solution links the data of individual people to the flow of vaccines through the supply chain, including a component on stock levels.
Hasselback said she believes Vodafone's mhealth solution would benefit from linking up with the Open LMIS system, but it's unclear if that linkage will happen as part of the partnership.
Both the Open LMIS system and Vodafone's mhealth solution will need government adoption to scale, and there is a significant risk that governments will choose not to adopt either mhealth platform.
"Governments can be fickle as budgets change and are at the will of the donors," said Hasselback. The success and profitability of mhealth applications in developing countries will depend on the willingness of government to invest.
Immunizing for 'pilotitis'
The financial size of the GAVI-Vodafone partnership is a drop in the bucket compared to GAVI's overall annual budget of $1.85 billion. It's even significantly smaller than many of GAVI's partnerships through the Matching Fund.
Ferreira said the GAVI leadership worried about the risk of "pilotitis," a common scenario in which a new development model is tested as a pilot but never fully brought to scale due to a lack of planning or other issues. "The assumption [is often] that if you do a pilot, it will expand and grow by magic," said Ferreira.
Of 36 mhealth initiatives in Uganda in 2008 and 2009, 23 of them did not progress beyond the pilot stage, according to a 2013 article in the journal PLOS-Medicine.
"Applications that require relatively little infrastructure investment yet must be integrated with a country's healthcare systems… run the risk of being deployed on a small scale only, in pilot schemes and trials, but then failing to achieve their full potential," wrote the authors of a 2011 study by the University of Cambridge and China Mobile.
Lack of government support is one reason that some pilots fail to scale up, which Vodafone knew firsthand from its work in The Gambia. As a result, it placed tremendous value on GAVI's ability to bring the Mozambique Ministry of Health into the partnership.
"Our goal is to have a sustainable product from the outset," said Crow. "Instead of trying something really small and bottom-up, there is absolutely buy-in and vision about how we take this to scale."
Tracking results, sharing data
Scholars and development experts have called for donors and implementers to publish more data on their mhealth work, in order to uncover best practices in mhealth interventions. To date, there have only been two academic studies assessing the efficacy of mhealth solutions.
"There are a set of principles that could potentially be established to identify the optimal strategies for delivering mHealth interventions," wrote the authors of one of those studies, the PLOS-Medicine article. "It is time to start funding randomized controlled trials of interventions that are based on researchers' best guesses about optimal implementation."
GAVI and Vodafone are doing just that. In collaboration with Dean Karlan, the Yale development economist and founder of Innovations for Poverty Action, GAVI and Vodafone have designed an evaluation framework that includes a randomized control trial of Vodafone's mhealth product in Mozambique.
"Vodafone is interested to get learnings that they can take to Mozambique, but if it works, to potentially take it to other countries and motivate adoption of technology there as well," said Luke Crowley, IPA's project director in South Africa, who will be managing the evaluation.
GAVI leaders said they are motivated to conduct the rigorous evaluation in order to publish data that will be valuable for the public health community.
"We need to evaluate the extent to which mhealth technologies might be important in addressing global issues around improving immunization delivery over the next decade," said de Lanerolle, the GAVI consultant.
The protocol for this study is currently awaiting approval by the Mozambique Ministry of Health ethics committee. After that approval process is complete, field implementation can begin.
Working toward the long term
It has now been about 18 months since Vodafone and GAVI started their partnership conversation, and both sides are hopeful that implementation will begin soon.
Vodafone acknowledges that the timelines are longer than what they are used to, but insists the extra time invested will pay off. "The Vodafone-GAVI partnership is embedded within the commercial operations of the company and is hopefully a longer-term vision," said Crow.
It's clear that Vodafone is not the only telecom that sees mhealth as a huge potential market. GSMA, the telecom industry association, has a Pan-African mHealth Initiative that aims to unlock what it calls the "latent potential" of the industry.
"Telecom is nothing but a business like any other business," says Onoguchi of IFC. "They are selling their product, which is either voice traffic or data traffic. From a pure telecom perspective, the more the customers use their network, the happier the operators will be."
For many development actors, the potential for Vodafone to make significant profits in mhealth would make them wary of partnership.
"Can you do well in business at the same time that you do good in public health? The traditional public health world is somewhat phobic to or skeptical of the private sector," said J. Steven Morrison, director of the Global Health Policy Center at the Center for Strategic and International Studies.
GAVI argues that it is exactly its organizing structure as a public-private partnership that allows it more flexibility and creativity in forging new partnerships. Though the time investment for this partnership is more significant than a purely financial partnership under its Matching Fund, the time required will be modest after implementation begins.
GAVI does not have an office in Mozambique, nor a full-time staff person dedicated to the partnership. Their primary role going forward will be to chair a reference group of experts that advises periodically on project implementation. Both IPA and VillageReach have interacted solely with Vodafone on project planning, not directly with GAVI.
With field implementation on the horizon, GAVI and Vodafone acknowledge both the opportunity, and the risks ahead.
"Your grandmother's development agency is not getting the job done," said GAVI's Ferreira. "We must have the appetite for getting things wrong sometimes."
Hasselback said she is optimistic about the partnership.
"We believe that Vodacom can efficiently and effectively manage the infrastructure to collect and analyze data better than we could or the Ministry of Health could," she said. "And GAVI being a leader in this is important going forward to make sure that it is globally applicable."